Hi and thank you for visiting
Here is a collection of frequently asked questions, interviews and livestreams I've done over the past couple of years that I wanted to collect and share in one spot with the hope that they can help you on your journey and perhaps even inspire and motivate you to keep going.
I, by no means have the answer to everything on Blender or digital art but I love what I do and I love to learn. What I share in my talks and here on my website are things I've found helped me and are based on personal experiences. I hope you'll find them useful as well.
Livestreams,
Podcasts

and Talks
Feedback Session: Winter Stories Pt.1
Check out Part 1 of the feedback session Nikos (from Creative Lighting), Nicklas (from Chaos Theory) and I did for the Rookies Student Rendering Challenge: Winter Stories!
Mar 31, 2022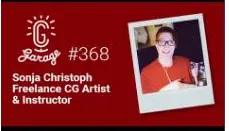 CG Garage Podcast
Listen to my return visit to the CG Garage podcast. The last time I was here was in 2019 and a lot has changed since then. If you're curious about what new challenges I'm facing these days – check it.
Mar 28, 2022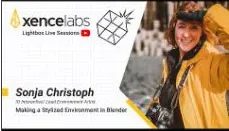 Lightbox Expo 2021
Making a Stylized Environment in Blender.
Watch this behind the scenes/making of presentation of one a stylized, snowy landscape scene.
Sep 11 , 2021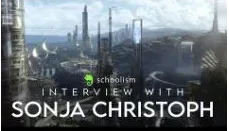 Schoolism Interview
Listen to Bobby and I chat about how I got started, my career path so far and my new blender class.
Sept 12, 2021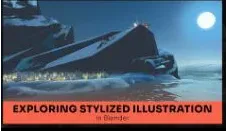 Gnomon Livestream: Exploring Stylized IllustrationYour Title Goes Here
Check out this livestream I did with Gnomon where I talk about one of my favorite hobbies these days – creating stylized artwork in Blender.
Apr 23, 2021
Gnomon Livestream : From Pre-Prod to Post
Tune in to this livestreamed event I did with Gnomon, my alma mater and learn how I like to work at home. I share tips on project planning and tracking, the software I like to use and other things.
Jun 2, 2020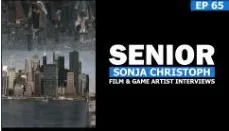 Student Art Podcast
Check out the podcast I did with Ross over at the Student Art Podcast where we talked about school differences between game & film, getting into the industry, teaching and all kinds of other things.
Jan 20, 2020
CG Garage Podcast
I had the pleasure of chatting with Chris over at CG Garage during Total Chaos in Bulgaria. Listen to our podcast where we talk about working in videogames.
July 22, 2019
Total Chaos: Switching Lanes - From movies and blockbuster FX to AAA games
Watch my presentation from Total Chaos 2019. It was such an honor to be there!! Thank you so much to Chaos for inviting me. It was a weekend I'll never forget!!
Jul 23, 2019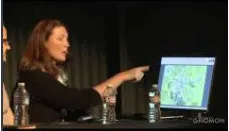 Gnomon - How to Break Into the Industry
Watch my presentation from Total Chaos 2019. It was such an honor to be there!! Thank you so much to Chaos for inviting me. It was a weekend I'll never forget!!
Dec 14, 2016
What kind of computer should I have to be able to do 3D?
I'm not an IT expert I'm afraid but I can recommend looking at software creator's websites. They nearly always have a list of recommended specs to use with their programs.
What software do you like to use?
I like to use a lot of different software – I have fun learning. It's a bit of a hobby of mine.
Blender
Blender is my go to software for concepting, modeling, UV-ing and everything NPR (non photo realistic) related. It's free to use for personal and commercial products and it has some amazing tools.
I also teach an Introduction to Blender class on schoolism.com if you're interested.
Zbrush
If I need to do any high fidelity sculpting, Zbrush is still my go to software although I haven't had the need for high fidelity sculpting in a while. The little sculpting I need to do, I can easily do in Blender.
Gaea
Gaea is a fantastic terrain creation software. It has a wonderful UI, is very easy to use and creates amazing looking terrain.
Substance Painter and Designer
Substance is my favorite tool when it comes to texture creation. These are all around amazing programs.
V-Ray or Corona in 3ds Max
If I want to do a raytraced rendered image – my go to combination is either V-Ray or Corona in 3ds Max. Both of these render engines are amazing and will give you fantastic photo realistic results while still being flexible enough to give you full control to manipulate and cheat if you need to.
Unreal Engine
Unreal is my preferred game engine. The UI is relatively easy to navigate and it's an incredibly powerful engine with lots of amazing tools like the terrain creation tool, vertex paint, POM etc.
After Effects
At home I use After Effects for any compositing needs I might have. I'd prefer to use Nuke because I generally like working node based but a Nuke license is quite a bit more expensive.
Can I create an anime look in Blender?
Blender is an incredibly powerful 3D creation software with which you can create all kinds of NPR (non-photo realistic) looks. I'm hoping to do some NPR tutorials or perhaps even a class about it soon but in the meantime I recommend doing a quick google search – there are a lot of online tutorials out there that show different techniques to achieve an NPR look with Blender.
Is Blender used in the industry?
Most studios still use Maya, 3ds Max or Houdini as they often times have a full pipeline built around these programs. A lot of the bigger studios might even have licenses for all these programs so the artists can choose which software they want to work in. Blender is still the new kid on the block but it's quickly gaining momentum and more and more studios are starting to add Blender to their list of programs you can work in. I've been able to use Blender at the last two studios I worked at.
Can I use Blender to get a job in the industry?
Yes you can. A great portfolio is a great portfolio, no matter what software you used to create it. Just know that you may need to learn another 3D software on the job but that's more common than you might think. A lot of studios have their own proprietary tools and/or software so new employees are often expected to learn new tools.
Do I need to know how to draw and paint to be a 3D Artist?
You don't need to know how to draw and paint per se but a strong understanding of fundamental art skills does translate to 3D and will make your 3D artwork stronger.
Can you review my portfolio?
I receive a lot of portfolio review requests and as much as I would love to, I can't always get back to everyone. I am truly sorry and I hope you understand.
My advice for you is to seek out artists at studios you'd like to work at and look at their portfolios. What are they focusing on in their portfolio? How are their portfolios arranged? What quality is the work and most importantly, is your work of that same quality?
How do I know if I'm ready to get a job?
Personally I never felt ready to get a job – I simply put together my best work and tried applying. I figured if I get a 'no' back or nobody replies at all – then clearly I'm not ready yet and I need to keep working on my craft.
My advice is to put together the best portfolio you can, see what your teachers or peers think of it and if they like what they see, then put your work out there and start applying. Afterwards just continue to work on your craft until you get that first 'yes'…and then continue to work on your craft some more.
I'm thinking about switching jobs and becoming an environment artist. Do you have any tips on how to do that?
My first question to you would be – which area would you like to work in? VFX or games? They have very different workflows and use slightly different software as well.
Next I recommend you pick up a 3D modeling tool like Blender, Maya, 3ds Max or Houdini. For texturing I recommend you learn a texture painting program like Substance or Mari. If you want to work in games you are also going to have to learn a game engine like Unreal or Unity for example.
Focus on achieving natural and realistic lighting and materials in your scenes. Start putting together a couple of environments. Think about your fundamentals like composition, values, colors and storytelling. Can I look at your scene and tell what kind of person lives in that apartment or can I tell what city or country I'm in? Did something happen here? Adding different kinds of story elements will make your environments come alive and add more interest.
Once you have a portfolio, it's time to apply and get a job.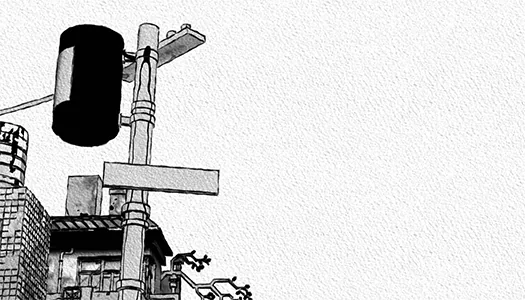 Check out this in depth article I did for Blender Nation.